Thanks to everyone for stopping by and making our gallery opening such a wonderful success. It was truly an honor to be able to show you all our new art. Here is a picture Cindi took of Addy (my 5 mo. old German Shepherd) and me at the opening. Since we were serving hotdog, Addy had a particularly good time.
Special thanks to my fellow exhibiting artists: Kathy Brecheisen, Lynne Wright, Doreta Boyd, Don Wright, and Talya Johnson. We are getting new and exciting works in everyday from these exceptional artist. Please follow us on here and
facebook
, it helps us get seen.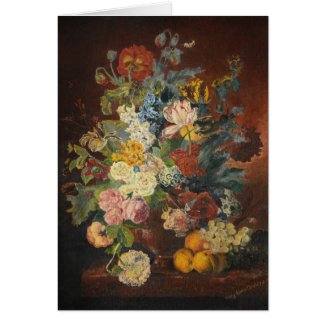 Card - Flowers of Light
by
RealisticOilPainting
Add your text to this and other unique blank greeting cards by RealisticOilPainting at Zazzle.
Spring flowers and a touch of the nostalgic shine in this painting by Mary Ellen Anderson. Available as greeting cards, that will add elegance to any Easter basket or Spring greeting. These and other unique cards and gifts are in stock now at:
Mary Ellen Anderson Fine Art
(Inside Anderson Rentals Building)
1312 W. 6th. Street
Lawrence, Ks. 66044
Gallery Website